Chicken Korma Recipe using Organic Shahi Korma Spice Mix
We love a good curry, with all of it's flavourful, aromatic, healthy, herbs and spices, and this spice mix makes it soooo easy to whip up those authentic Indian flavours.
If you follow our recipe then a 100g pouch of our Organic Shahi Korma Spice Mix will allow you to make at least 5 generous sized family meals, with around 6-8 adult sized portions per meal.
One batch of this recipe actually gives us 2 nights of dinners, so it is a busy midweek life saver!
We like to add all the bits and bobs with some gluten free pappadums, rice, yoghurt, and chutney. Oh so fancy! And the perfect accompaniment to the super flavourful curry.
The 100g of organic spice mix comes in a handy resealable pouch, so it will be kept fresh and ready for you to use in your cooking.
Of course if you are vegan or vegetarian, this spice mix works well in vegan and vegetarian recipes, just swap for tofu and/or vegetables, and use vegan alternatives like coconut oil, coconut milk/cream, and coconut yoghurt!
Easy Chicken Korma Recipe:
Ingredients
1kg of Chicken Thigh diced
1 cup of plain yoghurt
2 Tbsp Tomato Paste
2 Tbsp Shahi Korma Spice Blend
50g Almond Meal
2 large Onions finely sliced
3 Potatoes Diced
2 Tbsp Butter or Ghee to cook onions
3 Tbsp Cream or Coconut Milk/Cream
pinch of salt to taste
Directions
Mix yoghurt, tomato paste, Shahi Korma Spice Blend & almond meal together
Add Chicken to this and coat thoroughly. Cover and marinade min 2 hours to overnight in fridge
Boil potato until softened but still firm
Sautee onions in butter until caramelised
Add chicken and marinade to onions, and brown the chicken, but do not cook through
Add cream, salt, and potato and stir until until the chicken is cooked and sauce has thickened
Serve with extras like pappadums, yoghurt and chutney!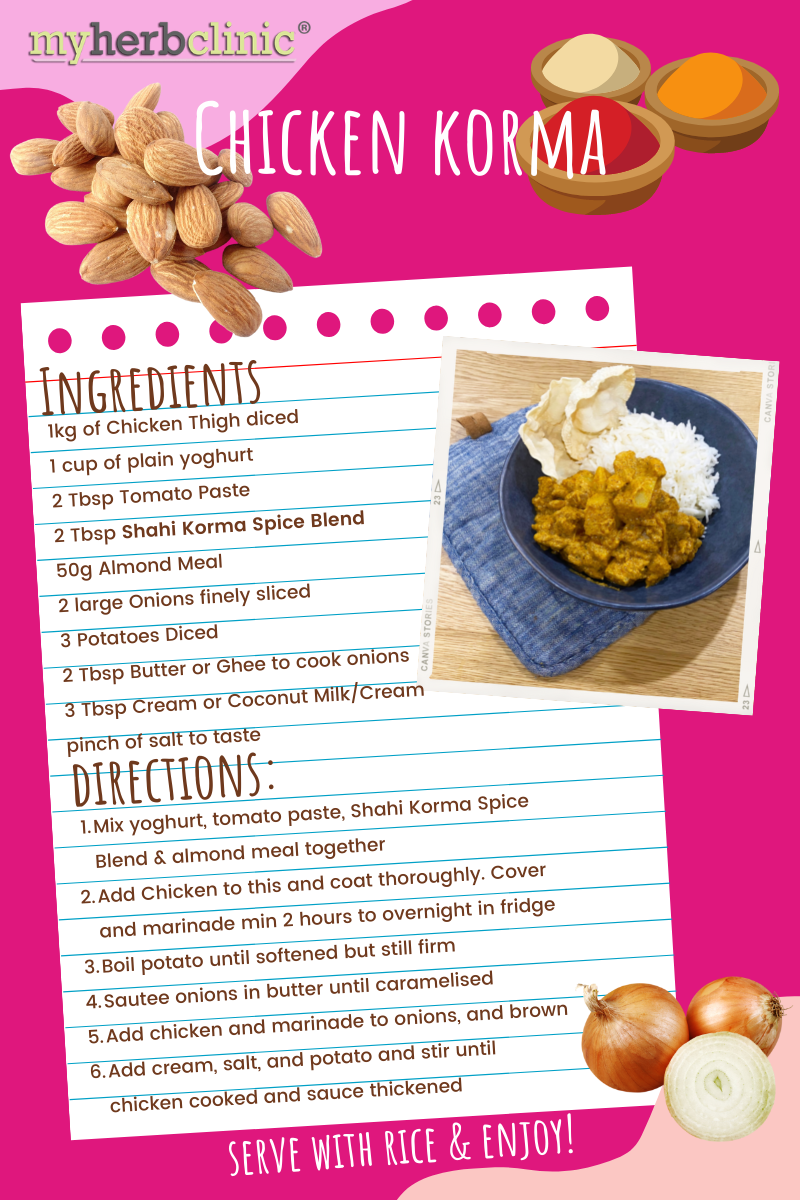 Recent Posts
In a world where ancient wisdom and holistic healing converge, the art of Tarot reading has stood th …

Imagine a sunny day, a lush green meadow, a chequered blanket spread out under the clear blue sky, a …

In the midst of life's hustle and bustle, finding pockets of serenity can be a challenge. Yet, blend …